Wet Season Safaris
Why hunt for only 3 or 4 months when you can actually hunt for 12 months?! We do!!
It is a common belief that a safari in the North of Australia is only possible between June-August. This is not correct and has only been presumed because this is the dry season and the coolest time of year.
Also, most outfitters live in the southern parts of Australia and can only allocate a short time frame for their safaris thus they suggest offering all of their hunts in one short season which is convenient for them.
At Australia Wide Safaris we live at Carmor Plains Wildlife Reserve in the Northern Territory, 12 months, 365 days of the year. We live and breath "hunting" and when we occasionally don't have clients we are out looking at potential trophy animals for the next client!
However, an important point…. to conduct hunts in the summer months or wet season you have to have the correct equipment and set up.
ATV's and or 4wd's with big tyres to get through the swamps and bogs and a reasonably comfortable camp on hard dry land are the basics. It is no fun getting stuck out in the mud!! This is when our airboat comes in very handy!
But, the great part about hunting all throughout the year is seeing this beautiful continent in its other seasons. The bush changes so dramatically it has to be seen to be believed.
There are 4 main seasons –
Dry Season
June to August. In these months the weather is dry and cool. Minimums 10C (50F) and maximum 32C (90F). The grass and trees are drying off rapidly. Access is to most areas is reasonable. There is often a lot of leaf matter on the ground which can make walking through the bush noisy. This is undesirable especially on a close range stalk. But the hunting is still good and the weather is great.
Build Up
September to November. The day temperatures gets warmer, minimum 18C (64F), maximum 37C (98F). This is the beginning of the storm season and there are a lot of lightning displays in the afternoons and evenings especially in November…. these are fantastic to see. Just before the first storms, the land is at its driest and the game are concentrated around waterholes which is great for hunting. Also access to low lying areas and swamps are at their best at this time. Some of the biggest buffalo bulls that have not been seen all year will come out of the swamps as the flood plains dry up. The first storms also create a new element to the hunting, as each morning you will have fresh tracks or there is enough moisture in the soil to make tracking much easier and productive. This is also geese and duck season, something not to be missed and a great bonus to any safari. We get our best buffalo trophies during this early storm season.
Wet Season
December to March – The big rains begin. Day temperatures actually decrease, minimum 20C (68F), maximum 33C (91F), however the humidity increases. As the rainfall increases, it makes it more difficult to access certain areas thus the importance of ATV's or 4wd's with mud terrain tyres and by foot is often the only way. At Carmor Plains we have the luxury of an airboat which will take us where ever we want to go in the swamps.
The buffalo however move to dryer areas in the upland forests where they are not constantly in the mud and water. Tracking is very easy now as the feet of a big bull are huge, like dinner plates. Some of the best hunting for buffalo and wild boar is by following spoor (tracks). By judging the size and shape of the hoof prints you can generally make an accurate assessment if it is an old male (or not) and worthy of tracking. This is a real adrenalin rush. Following fresh tracks in the bush which is now lush and green and much denser than during the dry season. The ground is also damp now and there is very little noise made by foot fall. Shooting ranges are generally 50 metres and less… much less!!…This is real hunting!
Fishing is also a great bonus at this time of year. For those that have tried it, they know the Barramundi fishing in the Northern Territory wetlands and floodplains is some of the best fishing you will ever do!
Early Dry Season
April to May. Temperatures start to reduce, 18C (64F) to 32C (90F) and the humidity decreases slightly. Good weather for hunting and there is still the occasional big storm in April which provides fresh tracks and another great display of lightning. Water levels are still high so access to some areas is tricky and the game are well scattered due to plentiful feed and water.
However the bush at this time is probably the most beautiful, everything is bright green, the bush, the swamps and the floodplains. Water falls on the escarpment country are all flowing, creeks and rivers are full and the game are all in good condition. The fishing is still quite good too!
So, don't limit yourself to only visiting the Northern Territory during the dry months. Come "Down Under" and experience some of the other beautiful seasons and safari opportunities we have throughout the rest of the year!
At Australia Wide Safaris and Carmor Plains Wildlife Reserve we look forward to organizing a safari to meet your dreams and exceed your expectations.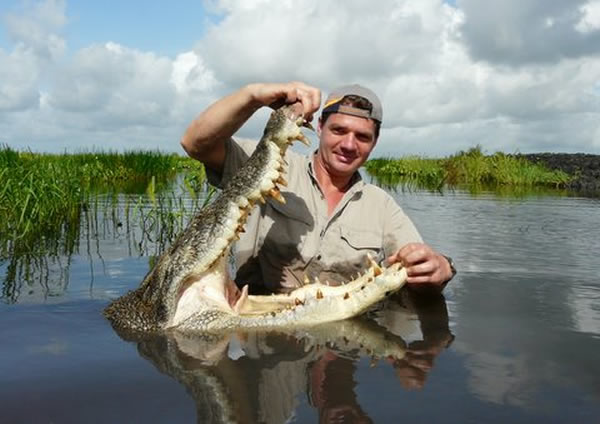 Wet Season Safaris Photo Gallery
[Contact Matt]