Air Boat Tours
For the thrill seekers and wildlife viewers … this boat ride will 'blow your mind'!!
Carmor Plains Wildlife Reserve conducts Air Boat Tours on our vast 60 000 acres of wetlands. These tours are the most amazing way to see the flora and fauna on the floodplains which are unique in this part of Australia. These massive wetlands are very similar to the Okavango Delta in Botswana or the Everglades of Florida. You have the opportunity to view an immense range of wetland birds. Some of these are Magpie geese, Pygmy geese and several different species of duck often in flocks of a thousand plus. Other wetland birds are several species of Egret, Ibis and Heron and the little Jacana that walks on water! Large cranes known as Brolgas and Australia's only stork, the Jabiru plus all the predator birds such as Whistling Kites, Sea Eagles and Falcons are constantly circling overhead, just to name a few!
And of course the ever present crocodiles! And finally, a tour is never complete without seeing a herd of water buffalo or wild boar and maybe a brumby that can be spotted as we cruise past!
Our airboat tours are the only way to access these grass covered waterways, which are often too shallow for normal boats. We can travel at over 80km per hour to get where we want to go FAST, cruising along the edge of plains in a couple of inches of water. Or we can anchor right amongst the paperbark forests and take in the views and watch the crocs and water fowl in their own environment. This is one of the best ways to watch the Magpie Geese rear their young, from the nesting in March until the goslings fly in August. Or watch the Whistling Ducks blacken the sky with flocks of up to 5000 birds. This is only seen in some specific areas of the Northern Territory and Carmor Plains is one of them!!
Airboat tours run for approximately 1 hour or we can customise a half day tour and venture out to the coastal rivers. Or why not incorporate it with an overnight stay in our very comfortable cabins.
[Accommodation Snippet]
Recommended Time
The best time for our Airboat tours is from February until September, but it can vary a little depending on the water levels of our floodplains. Please contact us by e-mail or telephone for prices and bookings.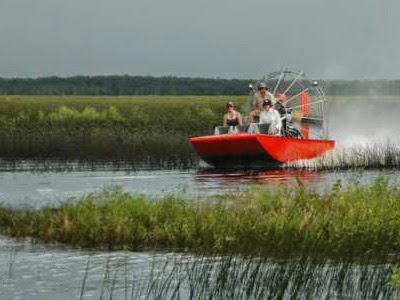 Great airboat trip! Saw some crocs and caught a few barramundi! Maarten Brower & Viola van Rhyn